7-27-2023. Concrete patios, driveways, sidewalks, footings and more. Exposed Aggregate, Stamped Concrete, White Broomed Finish - flatwork Concrete Contractor- MI-
Artistic Development Fiberglass Pools llc.  Sells and installs Thursday fiberglass swimming pools and Latham fiberglass swimming pools in Clarkston MI. 48436.    Michigan licensed builder- Installation of stamped, exposed aggregate, white broomed and decorative concrete in Oakland County Michigan. Driveways, sidewalks and patios and more.   West Bloomfield, Bloomfield Hills, Birmingham, Northville, Milford, Brighton, Fenton, White Lake, Commerce, Highland, Clarkston  and Beyond.......... Office # 248-889-8483
CHOOSING A CLARKSTON MI CONCRETE CONTRACTOR
Concrete Equipment Ownership
Don't forget to ask a cement - concrete contractor whether they own their own equipment or rent. A concrete contractor that has to rent equipment is subject to price fluctuations, making your estimate vulnerable to changes in the market. Eliminate unknown expenses by hiring our  today. We own our own equipment and will be more than happy to answer any questions you might have.
We have a full line of concrete excavation equipment, including dump trucks, a dozer, a steel-tracked excavator, and several Bobcats. Our team is fully equipped, which means you can hire us for the excavation, foundation, and flatwork involved with your next project. This saves you the hassle of hiring more than one concrete contractor for the same project.
 Our Experience - Concrete patios and sidewalks
During your search for a concrete contractor in Oakland County MI you should ask about their prior experience with projects similar to yours. For example, a cement contractor who only has experience with concrete crew may not have the same expertise we have in exposed aggregate concrete.  You should also make sure you find out how many years a prospective concrete contractor has been in the concrete business. For example, Artistic Development Fiberglass Pools llc, has been helping customers since 1995. A new concretee company won't have as many references, which makes it more difficult to determine whether they do quality work.
 Our Reputation
It's easy enough to check out online reviews for a cement - concrete company. However, how many of these reviews can you actually trust? A dishonest  concrete contractor may write their own reviews or enlist the help of family members and friends. Sometimes competing concrete companies  in Michigan will even write false reviews to attract business. While online reviews can be a great starting point in your research, you'll need to do more to get accurate information.
The most reliable way to get to know a cement company better is to talk to their past clients. A concrete contractor should be able to hand you a list of their past clients, along with their contact information. Since past clients have no motivation to lie, you'll be given an accurate picture of the quality of work the company does and their level of customer service.
You'll also want to make sure that the references are current. A concrete company that did good work a few years ago may not offer the same quality of service now. If a friend or family member has recently had their concrete driveway done and were happy with the results, you may want to ask them who they used.
Finding a cement contractor you can trust to do quality work is important. If you are interested in exposed aggregate concrete or our other services, feel free to contact us.  248-889-8483
Stone Patterns for Stamped Concrete in Oakland County Michigan
Stone is a natural material with inherent beauty. For millennia, it has been the standard paving and building material. While its rustic appeal still holds in modern times, the expense and limitations are a deterrent. Stone textures for stamped concrete reduce the labor costs and give more creative control and uniformity without sacrificing visual appeal.
Rough Cut Ashlar, FM-100 s/o
24″ x 24″ (60.96 x 60.96 cm) – Red, Yellow and Blue
VIEW ROUGH CUT ASHLAR, FM-100 S/O
Ashlar, TM-100 s/o
36″ x 36″ (91.44 x 91.44 cm)Pattern: A, B and C
VIEW ASHLAR, TM-100 S/O
Australian Ashlar Cut Stone, FM-150 s/o
23.25″ x 23.25″ (59.05 x 59.05 cm)Red, Yellow and Blue
VIEW AUSTRALIAN ASHLAR CUT STONE, FM-150 S/O
Exposed Aggregate Concrete System
2-26-2023  Exposed aggregate concrete is accomplished by pouring then removing the top layer, uncovering the coarse aggregate beneath. The aggregate can be either a natural material or manmade. Exposed aggregate is one of the best ways to add beauty without subtracting usability or functionality. Concrete patios and driveways with an exposed aggregate finish can withstand high foot and vehicle traffic. It can also handle freeze-thaw climates, moisture, and other environmental threats just as well as regular concrete patios and sidewalks
What products does Brickform have for installing an exposed aggregate surface in Michigan
If you plan to create an concrete exposed aggregate surface, we recommend using Brickform products throughout the entire process. Doing so will make for a seamless experience. Here's what's required to install an exposed aggregate surface. Below, you will find more information about the products available for each step.
Surface retarders
Coloring systems
Sprayers
Reusable urethane stencils (optional)
Sealers for surface protection
Complementary products
Surface Retarders for exposed aggregate concrete
A surface retarder is used to expose the concrete aggregate on a freshly poured slab of concrete. Surface retarders are safer and reliable option than sandblasting (which can be very abrasive) or acid etching. Brickform offers Select-Etch, which allows you to achieve a more controlled exposed aggregate concrete finish than other retarders.
Sprayers
A high-performance sprayer ensures that your product is distributed evenly. All our Swissmex sprayers feature impact and UV-resistant poly tanks, leak-resistant internals, and adjustable nozzles. Here are two sprayers we recommend for exposed aggregate projects.
DS-8042 is a .4 gallon hand sprayer that works well with E-Etch and acid stains.
DS-8182 is a 2-gallon compression sprayer that is best for E-Etch, acid stains, muratic acids, and phosphoric acids.
Stencils (Optional)
An optional addition to your exposed aggregate surface is stenciling. At Brickform, we offer Concrete Dimensions. These reusable urethane stencils are a simple and easy way to add intricate designs to your surface.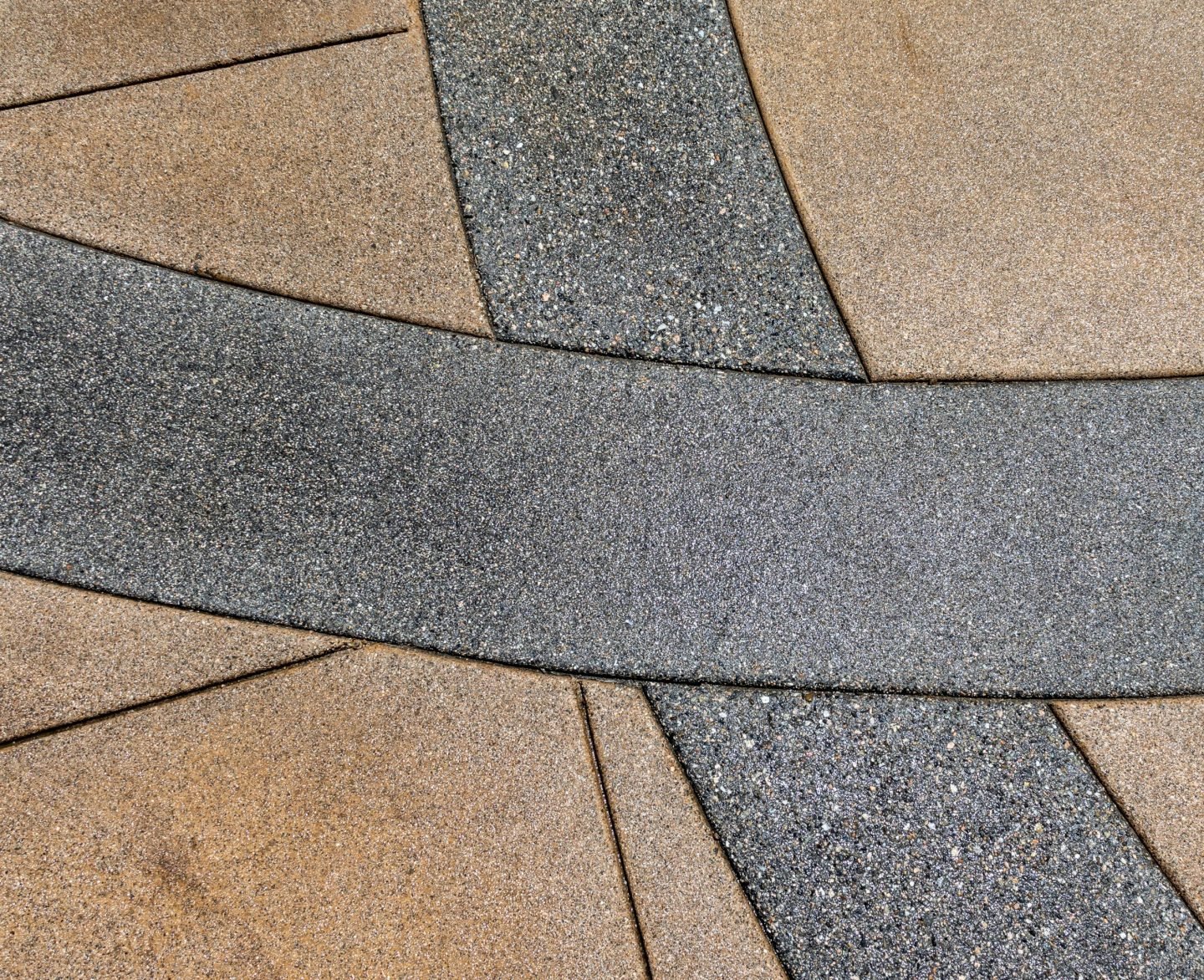 Sealers for Surface Protection For Exposed Aggregate
After completing the exposed aggregate surface, it is critical to protect it with a sealer. A high-quality sealer will protect the surface from wear and tear, contaminants, and more. It will provide long-term protection and visual enhancement.
Here are the sealers we recommend for exposed aggregate concrete surfaces:
Gem-Guard SB is a penetrating, solvent-based sealer that enhances the color and provides a low sheen without adding the gloss and plastic look associated with traditional film-forming sealers.
Stealth-Seal WB is a water-based sealer that protects and preserves with an invisible finish that does not alter the appearance of the surface.
Complementary products - Exposed Aggregate Concrete
Here are some additional Brickform products you may find useful during the process of installing an exposed aggregate surface.
E-Etch is a cleaning and etching agent that removes efflorescence from the surface.
Neutra Clean cleans and neutralizes a surface before sealing. It also serves to remove efflorescence.
DAY1 Finishing Aid extends your work time by slowing surface evaporation, making finishing your concrete work easier by reducing the risk of your slab prematurely setting.
Additional supplies you may need when installing an exposed aggregate concrete surface
During the process of installing the exposed aggregate surface, you'll need to purchase the following supplies if you don't already have them on hand.
Hose
Push broom
Pressure washer
Rotary buffer
Decorative aggregates
Why use Brickform products?
High performance. Customers choose Brickform time and time again because our high-quality products provide consistent results.
Easy to find. Brickform has the largest distribution network in the industry.
Simplicity. Our products have a reputation for being easy to use while also being high quality.
Great support. Brickform's team of experts are ready and able to answer questions, provide technical support, and troubleshoot issues while you're on the job.
Compatibility. Our system of products makes for a seamless process

Steps When You're Considering Stamped Concrete in Milford MI

There's more to a successful stamped concrete project than finding a contractor in Michigan and writing a check. Follow these six steps to get the make sure you get the right stamped concrete for your home or business:

Before more in-depth planning, it is important to answer a few key questions. First and foremost, a maximum budget needs to be set. From there, you should find a general timeframe – this is especially important if the stamped concrete fiberglass pool projects is part of a larger renovation. Remember that many contractors are busy, with some scheduling jobs as far as a year in advance. From here, you should consider selecting a contractor.

Consider limiting factors and logistical concerns. An experienced concrete contractor in Milford Michigan should be able to help with this. Some common issues include:

Smoothness – highly textured or "deep" stamps can be difficult for people wearing high heels, wheelchairs, and carts with small wheels to traverse.

Access – can the contractor access the area with the required tools and materials? Will any accommodations be needed, such as removing fencing?

Safety – some concrete patterns or finishes can pose a safety risk. For example, some stamp patterns can pose a slip risk when wet. It could be necessary to make special accommodations to improve traction or select a different finish.

Concrete patios and sidewalks– is the location suitable for concrete placement? If not, what needs to be done to make it suitable?

Get a general sense of the concrete design. This is where the "look and feel" is decided. Chances are, you have already given this subject thought and that is how you decided on stamped concrete. Choose a general style that works with the house and surrounding properties. Select a handful of colors that would make sense with the texture (browns with wood patterns, grays and tans with stone, reds and browns with brick, etc.).

Make final concrete texture and color choices with your contractor. Final selections may depend, at least in part, on what colors and textures your contractor offers in his portfolio. At this stage, your contractor may offer additional guidance based on his experience. It is generally a good idea to listen to this input.

When placement begins, follow your concrete contractor's instructions. Any requests during the duration of the project should be aimed at ensuring the best possible end product. A good concrete contractor in Oakland County Michigan  should prepare you by informing you of your responsibilities.

Before completing the project, your Stamped concrete contractor should instruct you on the maintenance requirements of your new stamped concrete Patio. Most stamped concrete sidewalks and patios will need to be regularly cleaned with re-sealing every two to three years.

By taking a little bit of time to plan, you can enjoy spectacular stamped concrete for years to come.